I was recently selected by u.s. product tester to review Maybelline products. I received an email from u.s. product tester on January 24th and received my package on January 26th. This has been one of the fastest packages I have ever received. I would give them a five out of five for their fast shipping.
The first product I will be talking about is the baby skin instant pore eraser by Maybelline. This poor eraser came in a light blue package with pink writing. It is cute but simple. The product itself goes on smoothly and does leave my pores looking less visible. Did it hide my pores completely? No. Would I personally buy this pore eraser? I would say no only because I already have products that I feel do a slightly better job at concealing my large pores. And I would still recommend it to anyone looking for a less expensive pore eraser for smaller pores. I would score this product a four out of five.
The second product I will be reviewing is the Maybelline hyper easy brush tip liner. I will first start with saying I'm a pencil girl but with that being said I love this brush tip. It took me two tries to get a cat eye and I have to say I love it. Will I still use my pencil? Yes. But I will also be using this brush tip anytime I want to do cat eyes because I am now obsessed. This brush tip is affordable, easy-to-use, and it looks amazing. This is definitely a five out of five product and I will be recommending it to everyone.
The third product that I will be reviewing is the Maybelline Fit Me 100 translucent powder. Actually I used Maybelline Fit Me powder before. Have I used this color? No. Would I use this color again? Yes! I feel that I was able to apply this powder flawlessly to my face. I feel that you will be able to use a brush or a sponge, either would work. And how could you beat this price. Like I am seeing these things on sale sometimes for around $4 to $5. I even patted my face with the sleeve of my shirt and saw very little transfer. I have used more expensive products and had more transfers then this. I would also give this one a five out of five and I will be buying it.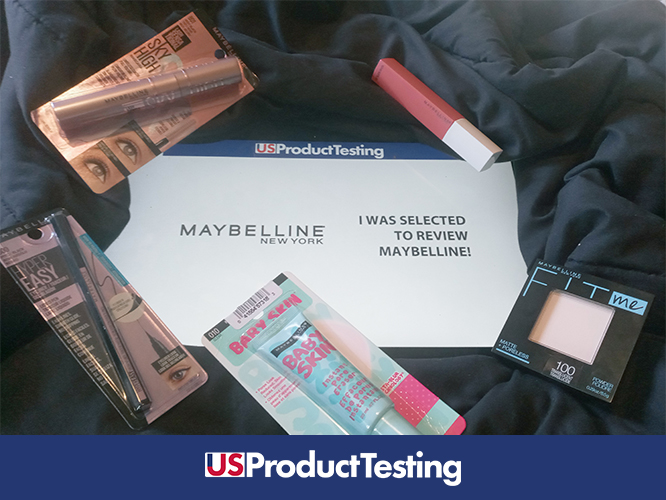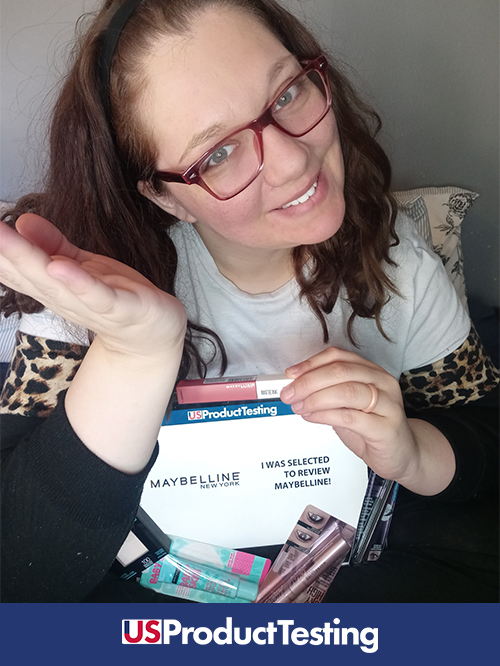 The fourth product we will be discussing is the Maybelline Sky High Latin stational mascara. Now while the packaging is beautiful, I feel that the product is very bulky. I have other Maybelline mascara and they're just not this large. Now when you open the mascara the brush tip is beautifully filled with tiny bristles and flexible. The flexible tip was a very big plus for me. Unfortunately I feel bad it just fell a little flat for me. The mascara coated my eyelashes well but that's really all it did. I'm more of a fan of a mascara that lifts, curls, or makes fuller lashes. I would give this mascara maybe a 3 out of 5 unfortunately I would not recommend it to friends and family.
The fifth and final product that I tested was the Maybelline superstay matte ink. I will say this I am definitely a fan after trying this matte ink. After applying the product I gave it some time to dry, just a couple minutes. Once I felt that the matte ink was dry I kissed my hand multiple times to see if it would transfer and it did not. I tried so many products in the last year that claim to be long lasting and transfer resistant but fade the moment my lips touch something. This product is definitely a winner. Simple elegant packaging with an easy to apply tip. The only issue I had with this matte ink is that when you open it and remove the applicator a little product hangs from the tip. I would give this product at 4 out of five and I would recommend it to everyone. As I myself will be looking to buy other colors.
My overall experience with the Maybelline product sent to me has been very good. All of the products work really well. I've actually used a couple Maybelline products in the the past and I am currently using the Maybelline great lash for my everyday eyelashes and during the summer I typically use their Maybelline Fit Me 230 natural buff Foundation. I love both of those products and now I have a few more to add to my routine.