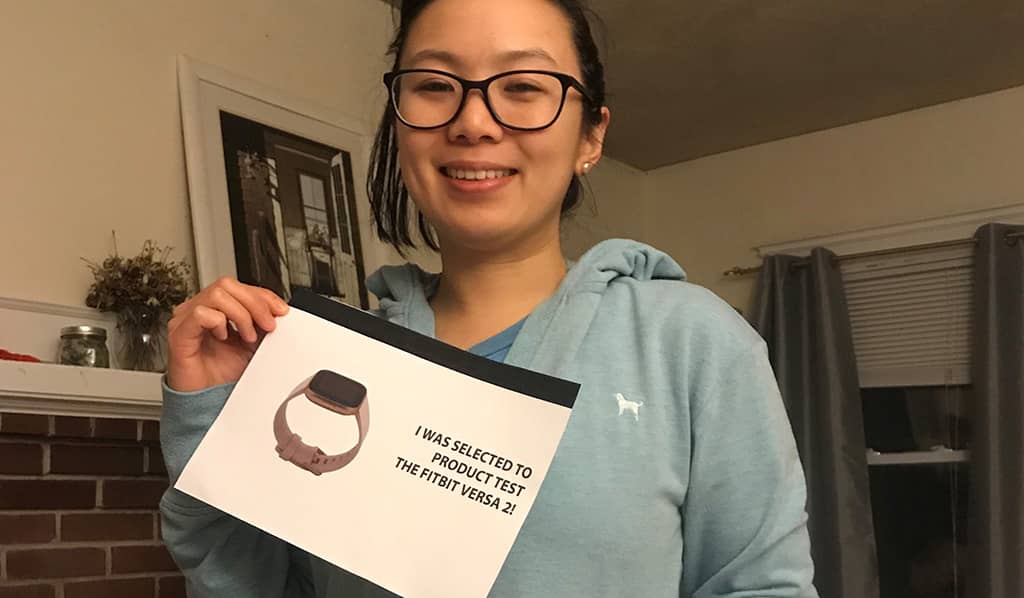 Tammy certainly put this fitness tracker through it's paced, even taking it to a hot yoga session!
The Fit Bit Versa 2 arrived quickly. My roommate, who had picked up the package, said the delivery was quick! Upon opening the package, I noticed that everything was compartmentalized neatly. Included in the package was FitBit Versa 2 in the colors of rose pink and purple, an additional large wristband, instructions on how to attach and detach the wristband, a FitBit product information guide, the charger for the versa 2.
Upon viewing the wristband instructions I've attempted to remove the small wristband and attempt to reattach it. To detach you would simply push down the wristband, I was able to detach the wristband on the first try. However, to reinsert the wristband it had proven to be more difficult having to reinsert the wristband at the proper angle took at least 6 or more attempts. I put on the watch on my left non-dominant hand. The silicone felt lightweight on my arm and the strap was easily adjustable and it was a snug fit.
The FitBit Versa 2 was not at all heavy and I could easily move around with it. The square design of the watch reminded me of an Apple Watch. I liked the sleek touchscreen surface of it.